Laura Mercier Foundation – Laura Mercier is one of the world's most famous makeup artists. She surprised the cosmetic industry by creating her brand based on the  "Flawless Face" agenda. Laura Mercier remains to advocate that what makes you unique makes you gorgeous.
Today, Laura Mercier is well-known for its foundation and perfect translucent powders. But that's not everything they sell! Laura Mercier has bestsellers with their stick eye colour and also their chic 'Flawless' beauty collection
This foundation helps fight dullness and reflect light, so skin looks glowing in any light. Vitamin C helps divulge a brighter, clearer and more even skin tone over time so that your skin is radiant without makeup. This foundation also helps plump skin to reduce wrinkles and fine lines effectively. At the same time, flexible polymers melt into the skin to create long-wearing, comfortable and weightless second-skin colour.
How to use: Apply to clean skin with a makeup sponge. For best results, apply over your foundation primer.
Laura Mercier Flawless Fusion Ultra-Longwear Foundation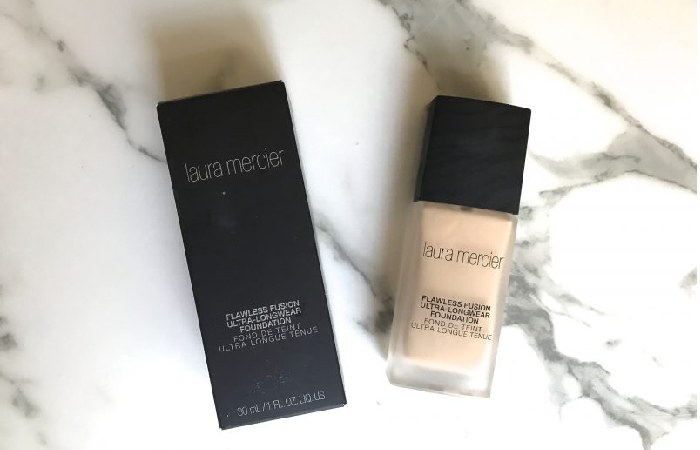 Earlier this year, Laura Mercier came out with a new long-wearing foundation! Specifically formulated to look and feel like a second skin, the Flawless Fusion foundation provides a matte finish, medium-to-full coverage and 15 hours of wear. The formula is oil-free, fragrance-free and suitable for all skin types.
Description
This foundation has a gel-cream formula, it looks thick when you pump it out of the bottle, but the texture is quite light on the skin! It has a satin matte finish and provides medium coverage, buildable to full. If you try to achieve the full range by using more products, it results negatively.
The foundation looks cakey and settles into fine lines. Less is more with this foundation. Only three pumps are sufficient for the full face. This amount of product gives me the best results; it looks great on the skin and still provides excellent coverage.
If your skin is very oily, it is best to apply it on bare skin and set it with a mattifying powder instead. This foundation looks best on normal to oily skin types. However, dry skin types could wear it with a luminous or hydrating primer, such as Laura Mercier's Radiance Bronze primer or NARS' Radiance primer.
But be careful if your skin is flaky; the formula tends to cling to dry patches. So you will need to prep your skin properly (exfoliate and moisturize). Otherwise, it will not look good on your skin, and the foundation won't last all day.
Regarding the staying power, it has great oil-controlling properties, but it's not extremely mattifying either. This long-wearing foundation is supposed to last 15 hours, so it fell short. But it will hold up well throughout an 8-9 hours work day, which will be fine for many of you. Also, the finish is beautiful and feels incredibly light on the skin!
Laura Mercier Foundation: Everything You Need To Know
There is nothing better than having clear skin. Laura Mercier has some of the best foundations in the makeup industry. It's so well-known, so let's compare two of the brand's best foundations against each other today! The two foundations reviewed today are the Laura Mercier Flawless Fusion Foundation and the Laura Mercier Flawless Lumière Foundation.
Laura Mercier Flawless Fusion
Laura Mercier's Flawless Fusion Ultra-Longwear Foundation sells fast; you get it before it runs out! This foundation is long-wearing with a matte finish and medium coverage. It's available in so many shades that it's hard to count!
Formulation
Laura Mercier's product is oil-free, fragrance-free, non-comedogenic, and dermatologist-tested. The main ingredients include Water (Aqua), Isododecane, Methyl Trimethicone, and Cyclopentasiloxane.
Coverage
The name doesn't disappoint; this foundation is ultra-long wearing, so you look flawless all day! With proper application, this makeup has 15 hours of wear and a weightless formula. You'll have next to no cakiness. If you want light coverage, only use a few pumps. For the full range, you'll use more ounces.
Shade Range
Laura Mercier Flawless Fusion comes in thirty-five shades, all of which have different tones for different skin types. Laura Mercier also has a process where they can help you find your perfect hue! The tool can match you to your ideal shade in only a few minutes through pictures of your face in high definition. It stays matte all day and looks great even when the sun goes down. The liquid is thicker than Flawless Lumière and is perfect for oily skin.
Laura Mercier Flawless Lumière Foundation
Next up is the Laura Mercier Flawless Lumière Foundation! This product is known for its radiance and ability to turn a dull face into something magical! Let's dive deep into what makes this foundation different from the Flawless Fusion:
Formulation
83% of consumers say this foundation's formula makes their skin glow. Not only that, but it blurs imperfections, applies evenly, and is breathable. Only a few ingredient differences make Flawless Lumière a more radiant product.
Flawless Lumière is hydrating, but that didn't do well with oily skin. This foundation is best for people with dry/normal skin!
Coverage
Both Flawless Fusion and Flawless Lumière offer medium to full coverage. It means the product is buildable depending on your coverage desires.
Shade Range
The shade ranges are similar for Flawless Fusion and Flawless Lumière. Both have thirty-five shades, all of which depend on your skin tone. Be sure to check out the matched foundation finder tool before purchasing!
Conclusion
Laura Mercier products are one world-famous products. The brand comprises a large variety of makeup products. The foundation is also of two types. In conclusion, the foundation and other makeup products are amazing launches from Laura Mercier that you need to check out.