Best Korean Beauty Products – Korean beauty, often abbreviated as K-beauty, is a term used to describe South Korea's unique beauty standards and practices.
Unlike Western standards of beauty, which focus primarily on external appearance, K-beauty emphasizes the importance of skincare and overall health. As a result, K-beauty products are often more natural and gentler than their Western counterparts.
Common K-beauty ingredients include ginseng, green tea, and rice water. Other popular K-beauty treatments include double cleansing and sheet masking. While K-beauty has only recently gained popularity in the West, it has been an integral part of Korean culture for centuries.
Best Korean Beauty Products – Why is Korean Skincare So Good?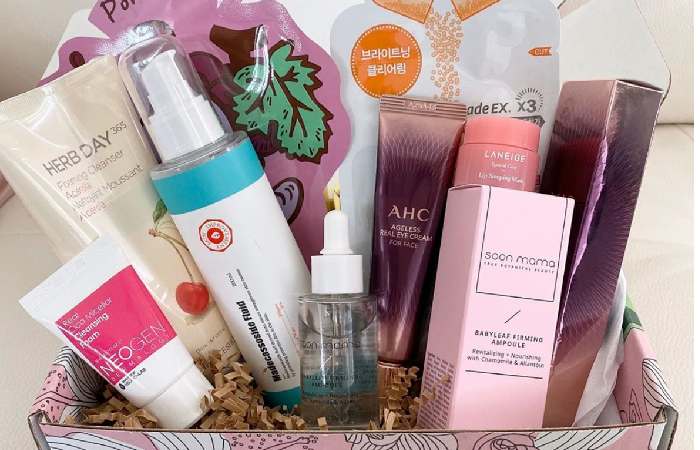 There are many reasons why people are drawn to K-beauty. And frankly, we can't blame them!
Here are just a few of the benefits you can expect from using K-beauty products:
Gentle natural ingredients that are good for your skin
Instead of harsh chemicals, K-beauty products are made with natural ingredients that are gentle and beneficial to your skin.
For centuries, ingredients like ginseng, green tea, and rice water have been used in Korean culture to achieve beautiful and healthy skin.
These ingredients also contain antioxidants, vitamins, and minerals that help nourish and protect your skin.
As a result, K-beauty products can help improve the overall health of your skin and give you a radiant and youthful complexion.
Plus, they're often more affordable than high-end Western beauty products!
Best Korean Beauty Products – Simple But Effective Recipes
K-beauty products will do the job.
They may not have all the bells and whistles of their western counterparts, but they are often more effective due to their simple but effective formulas.
K-beauty products are also known for their multi-purpose benefits. For example, you can find BB creams that cover, moisturize, and protect your skin from the sun.
Talk About Saving Time!
K-beauty products will streamline your beauty routine and help you achieve healthy and beautiful skin with minimal effort.
And we can get behind that!
Elegant and Minimal Packaging
We love K-beauty products not only for their ingredients but also for their elegant and minimal packaging. Unlike other beauty products that come in flashy, over-the-top packaging, K-beauty products are usually packaged in simple yet elegant packaging.
Not only does this minimalist approach look chic on your vanity, but it also helps cut down on waste. Plus, it's a great way to try out new products without committing to the full-size version!
Innovative New Trends
K-beauty is always at the forefront of beauty trends. There's always something new, from glass skin to jelly masks. This constant stream of innovation means there's always something to discover in the world of K-beauty. Whether you're a seasoned K-beauty enthusiast or starting, there's always something new to explore.
And with so many products online, it's easy to find the perfect products for your unique skin care needs. So why not try K-beauty? You are sure to find something that you like so much.
Suitable for All Skin Types
One of the best things about K-beauty is its suitability for all skin types.
The K-beauty product is perfect for dry, oily, combination, or sensitive skin.
This comprehensive approach to skincare means that everyone can enjoy the benefits of K-beauty, regardless of skin type.
Some of our favorite K-beauty products include masks, essences, and serums.
These products are designed to hydrate and nourish your skin to give you a healthy and radiant complexion.
Best Korean Beauty Products – The best Korean beauty products
Best Moisturizer
Sulwhasoo Essential Comfort Moisture Cream
Best Glass Skin Serum
Peach & Lily Glass Skin Refining Serum
Best Essence
Amorepacific Vintage Single Extract Essence
Best Cleansing Oil
Boscia Makeup-Breakup Cool Cleansing Oil
Best Cleansing Balm
Then I Met You Living Cleansing Balm
Viral On Tiktok
Glow Recipe Watermelon Glow Niacinamide Dew Drops
Best Anti-Aging Mask
Hanacure All-In-One Facial (Starter Kit)
Best Brightening Cleanser
Banila Co Clean It Zero Brightening Cleansing Balm
Best Clay Mask
Innisfree Pore Clearing Clay Mask
Best Sheet Masks
Lapcos Revitalizing Variety Pack Sheet Masks
Best Korean Beauty Products – Conclusion
Koreans have used only natural and harsh ingredients to create clear, radiant, natural-looking skin for generations, making K-Beauty products better and more famous today. Even today, natural Korean makeup can remain made for people to try at home by creating face masks.