Pattern Beauty is a new haircare brand for the curly, tight-textured hair community. It was launched in 2019 by Trace Ellis Ross and  pattern beauty by Tracee Ellis Ross launches universally with Cult Beauty. Pattern Beauty offers juicy, joyful, and also healthy hair for everyone.
Pattern Beauty gives more preference to the ingredients' quality to nourish each strand of the hair. By Black hair for Black hair, pattern beauty offers all the hair equipment, hair treatments, styling products, and more that your textured hair didn't have a reach. They provide the proper treatment for every curly hair type. If you don't know where to begin, we can give you information about your hair through our resources, and our products are here to empower you.
We want you to be sure by your faithful Black Beauty, keep all your worries away and say goodbye to damaged hair and get ready to experience your hair to its fullest potential. At Pattern Beauty, we holistically approach hair health and have products according to your hair in whatever phase it's in. We want to be engaged in every step of your hair care routine to confirm your hair gets the required nourishment it is worthy of. Our products include conditioner and shampoo for curly hair, argan oil, scalp treatments, jojoba oil, cleansing treatments, styling cream, and more.
Pattern Beauty – Get Your Curls Healthy and Well-Defined With Pattern Beauty Products.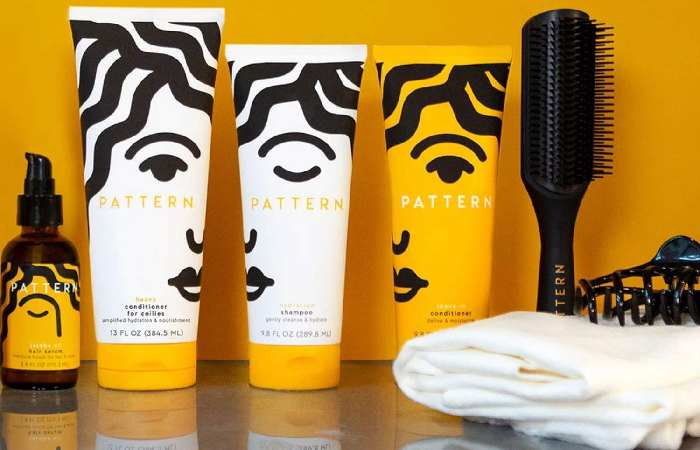 Products from Pattern Beauty can be purchased individually or in packs, like the Deluxe Bundle. Containers come fully equipped for anything you may require to tackle wash day. These containers come along with a microfiber towel, hair clip, shower brush, spray bottle, shampoo, conditioner, leave-in, and also hair serum.
Pattern Beauty – 1. Hydration Shampoo
This creamy shampoo comes from the bottle like silk and has a pearlescent look. Unlike most other curl cleansing products, it lathers up satisfyingly despite being free of Sodium Laureth Sulfate (SLES) and Sodium Lauryl Sulfate (SLS). The jasmine, sandalwood, and bergamot scent is subtle, earthy, and not distracting. After rinsing, hair feels good and clean but not stripped—courtesy of the formula's aloe vera leaf juice, coconut oil, and honey blend.
Pattern Beauty – 2. Heavy Conditioner for Coilies
Pattern Beauty's conditioner is immediately absorbing—it's one of the few brands offering a more oversized conditioner than shampoo. You will never notice the warnings of "dime-sized" quantities anyway, but it's nice to have a product that is finally considering how to use it. There are three iterations of the conditioner: medium (for curlies), intensive (for tight), besides heavy (for collies).
The heavy version is thick—like, and genuinely comprehensive, so a tiny amount is sufficient for the hair. It clung to the curls quickly, and you needn't worry about any product sliding out of hand. The aroma is soft and clean, and the product is very quiet when worked into the hair. It's the best conditioner with heavy hydration without making the hair rich—though if your curls are dehydrated, you probably have to leave it in for additional time to soak in as much moisture as possible.
3. Shower Brush
The in-shower brush works very effectively for untangling. With the help of this brush, the conditioner can easily slide through hair, providing great slip as you work out tangles. And it's easy to hold and doesn't slip even when your hair is wet. It's finished with nylon, which is especially great for detangling curly locks.
4. Leave-In Conditioner
Though much weightless than the heavy conditioner, the leave-in is creamy, with lightweight. It softens and outlines curls in just one step—pretty innovative for someone who typically uses many other curl-defining products. Squeeze it into wet hair and grab a microfiber towel to soak the drops. It helps to manage frizz as hair air dries. It's also excellent if you want to free your hair of different products and go (almost) all-natural—it gives curls a healthy bounce and shines without looking too done or too perfect.
5. Styling Cream
This rich cream is perfect for weaving braids, Bantu knots, or keeping curls defined. It's chock full of nourishing shea butter, cacao oil, and sweet almond oil for further hydration. Therefore, it is an all-in-one cream for shine, hold, and leave-in conditioning, it's a desert-island product.
6. Strong Hold Gel
This high-powered gel keeps your style locked down all day. It gives the strongest hold without making curls stiff and has aloe vera for moisture. We love using it with a heated dryer to sculpt curls when we want a severe grip, and it also imparts a slight sheen.
7. Hydrating Mist
To refresh your curls and coils between shampoo days, the Hydrating Mist smells like a dream and also gives curls much-needed moisture with coconut and avocado oils. Since it's a mist, it's lightweight, so loops keep their bounce and movement. It's our favorite product for when our rings need some juicing up.
8. Argan Oil Hair Serum
To top off your natural hair routine, this lightweight blend of oils, including argan, sunflower, castor, sweet almond, apricot, and shea, is the perfect finishing touch. Pat over hair to add subtle shine, or gently massage your scalp to relieve dryness and itching. We love that the serum leaves no greasy residue and smells delicious. Best of all, curls look more defined with added strength.