Organic Face Moisturizers for Winters  – Moisturizing is a significant component of the daily skincare routine. After cleansing, the skin is generally clean, oil-free, and dried. As a result, you must moisturize your skin after cleansing.
But do you still use chemical face creams? It's time to throw out your old creams because they damage your skin in the long term. To make your skincare routine safer and more natural, go-to organic face creams.
An organic cream consists of ingredients that help moisturize our skin without being harsh and provide hydration for healthy skin.
It would help if you chose moisturizers based on your skin types, such as gel or water-based moisturizers for oily skin, cream or oil-based moisturizers for dry skin, and cream or oil-based moisturizers for normal skin.
India's Best Chemical-Free Face Moisturizers
Mamaearth oil-free face moisturizer With Apple Cider Vinegar
SoulTree Moisturising Gel – Tulsi and Sandalwood
BIOTIQUE Bio Coconut Whitening & Brightening Cream
Plum Green Tea Mattifying Moisturizer
WOW, Vitamin C Face Cream
 Organic Face Moisturizers for Winters – 1. Mamaearth Oil-Free Face Moisturizer with Apple Cider Vinegar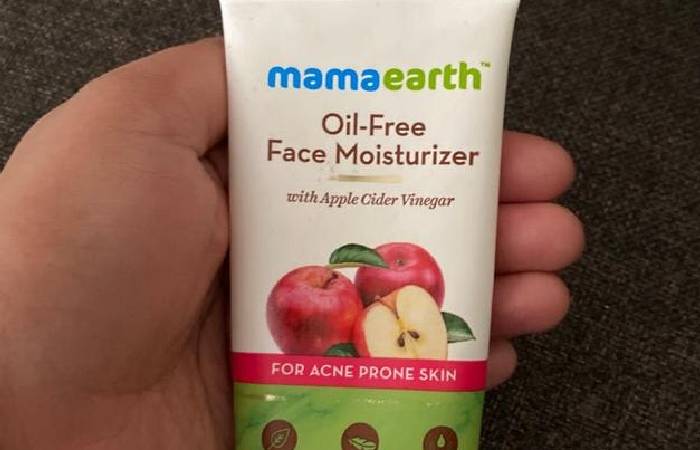 Product Details
Mamaearth's oil-free moisturizer helps balance the pH of the skin, which helps prevent acne breakouts. It also helps keep the skin's natural moisture, moreover making it soft and supple.
It reduces active acne and pimples and cleans the oil, and seals the pores to prevent them from recurring. The non-greasy cream is free of parabens, SLS, sulfates, colours, petroleum, artificial preservatives, mineral oil, and fragrances.
Mamaearth apple cider vinegar moisturizer is a non-comedogenic face moisturizer that does not clog pores and does not cause breakouts, making it perfect for acne-prone skin. Also, it is one of the best organic face moisturizers for oily skin.
This moisturizer lightens the skin and nourishes it without leaving it oily. In heat and humidity, it's the ideal moisturizer for oily skin and helps in acne drying.
It's not too thick or too runny in texture and has a light texture that absorbs quickly into the skin. The moisturizer provides skin with a matte finish without drying it out.
Organic Face Moisturizers for Winters – 2. SoulTree Moisturizing Gel – Tulsi and Sandalwood
Product Details
Soultree tulsi and sandalwood moisturizing gel help regulate excessive oil production (Sebum) while also hydrating your skin. It is made using a traditional Ayurveda formula that makes it the best natural face moisturizer.
Olive and Jojoba Oils are blended with Organic Honey to create a lightweight, non-oily, nutritious basis. The gel helps in the replenishment and rejuvenation of the skin.
Sandalwood and Aloe Vera extracts are utilized in the gel to help soothe the skin and minimize redness. Acne-fighting herbs such as Lodhra, Tulsi, and Neem work cleaning and closing pores.
This moisturizer contains a lot of humectants. The moisturizer has a light gel-like consistency that immediately absorbs into the skin. There is no shine or greasy residue behind, and it hydrates and maintains the suppleness of oily skin.
This gel cream does not contain silicones, Parabens, SLS/SLES, DEA/TEA, Mineral Oil, Phthalates, Lead, Petrolatum & Fragrance.
 Organic Face Moisturizers for Winters – 3. BIOTIQUE Bio Coconut Whitening & Brightening Cream
Product details
This luxurious cream contains pure virgin coconut, dandelion, and manjishtha to help remove dark patches and blemishes.
Bio coconut combines 100% pure botanical extracts such as nariyal, badam, manjistha root, and lemon leaf to provide you with spot-free, blemish-free skin. These natural and organic ingredients give you a clean, soft, and even skin tone.
This product has a creamy consistency. As a result, when you apply it to your skin, it feels thick. However, it absorbs quickly (within 5 minutes) and leaves your skin smooth and soft.
It has the disadvantage of being a little oily and greasy, making it unsuitable for persons with oily skin. However, it is ideal for use in winter and people with dry skin. It gives your skin a healthy glow and makes it creamy and soft for dry skin. It is one of the top organic face moisturizers for dry skin.
4. Plum Green Tea Mattifying Moisturizer
Product details
Plum green tea moisturizer combines green tea extracts and glycolic acid to give you smooth, non-greasy skin with regulated hydration throughout the day.
Green tea ingredients combat acne while hydrating the skin in a controlled manner; glycolic acid gently exfoliates pores, keeping the skin clear and oil-free.
This moisturizer is very light because it is oil-free and water-based. It has a medium to thin consistency and is neither too runny nor too thick, providing a non-greasy, matte finish to the skin. It's also a non-comedogenic green tea moisturizer that won't clog your pores. Plum moisturizer is cruelty-free, vegan, and free of parabens and SLS.
5. WOW Vitamin C Face Cream
Product details
WOW, Skin Science Vitamin C Face Cream is prepared with active vitamin C, almond and jojoba oils, Shea and cocoa butter, Moroccan argan oil, and hyaluronic acid. It not only brightens dull skin, but also fights signs of ageing, and boosts radiance. So, it is one of the best organic face moisturizers for ageing skin.
It contains active vitamin C, which helps repair skin damage induced by exposure to sunlight. It neutralizes free radicals that harm skin cells' structure, promotes skin hydration, and helps restore the lipid barrier.
WOW, facial cream leaves your skin feeling silky, smooth, and also beautiful. This Vitamin C Cream absorbs quickly, and also it  is non-sticky, and leaves a soft feel on the skin. Moreover its slightly oily nature makes it suitable for normal and dry skin, and we can use it as a skin primer under makeup.
The cream also contains hyaluronic acid, which is derived from plants and can store up to 1000 times its weight in water, making your skin hydrated and supple. It is free of Silicones, Parabens, Mineral Oil, and Color.
Organic Face Moisturizers for Winters – Conclusion
Organic Face Moisturizers for Winters – The products mentioned above were India's top 10 best organic face moisturizers for extreme moisturization and skin renewal. Choose the product that is most appropriate for your skin type. I hope you found this post informative.